IxD x Trishonna Trends w/ GenreVaein Boutique
Trishonna Helm, Omaha native, taking the Fashion and Beauty industry by storm at the age of 21. Owner of GenreVaein, an online boutique for women, she is also a blogger and YouTuber better known as TrishonnasTrends. She has always had a passion to create, starting out as an artist and even dabbling in jewelry making before making her transition into the Fashion and Beauty world. Every Sunday you can catch Trishonna on her Youtube channel, giving us an inside look at her life with good moments and behind the scenes from interviews to fashion shows. On Wednesdays she dishes tips, tricks and goodies with her hair and beauty segment. As she sets out to build her personal brand along with Genre Vaein, taking on shows, pop up shops and traveling all over, Trishonna wears numerous hats and juggles everything quite gracefully. Continue reading to get the inside on some of this beauty's must haves of the season as well as our on camera interview down below.
What brought about the Beauty Blogging, what made you go down that lane? With Beauty blogging, I really got into it because everyone was always commenting on my eyebrows, which I thought was bizarre. So I was like, ok, let me explore this a little bit. My sister is actually a makeup artist, so I watched her and started playing with my face more and more. And you know i always heard a lot of people saying, 'you're so pretty, you're so pretty, so it got me thinking I could do something with this. I personally feel like you simply can't be into fashion and then your face just looks blah. The two go hand in hand of course and I like to make sure I look the part.
Trend Report: Valentine's Day Edition - Beauty Tips and Outfits
You can never go wrong with a statement Body Dress for the occasion. Keep it simple and sexy. Style your lace or suede sensational dress with a light weight open toe or pointed toe Nude heel.
Don't over do it. No chunky jewelry and no excessive makeup. Either a statement lip or eyes will do the job!
Two piece sets are a must simply because the look is effortless. This is the perfect "I got dressed" look. With a fraction of the time, any two piece set will make you stand out in the crowd! It screams sexy and comfort. You can add accessories for a night time look or a cute jacket for a daytime look.
If you don't own a two piece set or bodycon dresses where have you been?!
Bodycon dresses are literally life! They are comfy and easy to style. Give them something to see without showing too much. A sexy silhouette can be very appealing to the eye. Wear this look to work, to church, a night out, the park, anywhere really.. pop on heels, flats and top it off with a trench and you are set!
Trishonna on her Go-to Look:
Colored denim paired with a loose t-shirt.
I love this look because its so cozy and trendy! Let your denim do the talking - Cut out the knee for edge. Pair pumps for class or sneakers for a cute street style look.
Two ways to style GenreVaein Olive jeans. Left: Street Style with a fresh pair of kicks. Pair the jeans with a long sleeve thermal under a cute bomber jacket and be comfy all day! Right: Throw a loose top on and bring the look together with a trench from GenreVaein adding a pair of nude pumps as the finishing touch on a cute and Chic style for the day. (Loose top and heels from Charlotte Russe.)
Trishonna Helm, beauty/style blogger and owner of GenreVaein Boutique, visits with us to talk about the many hats she wears, traveling and her chronic, resting bitch face.
Get a peek of what she has going on behind the scenes and how she pulls everything together.
Check out photos from the IxD Look Book shoot, captured by Jeff Collins.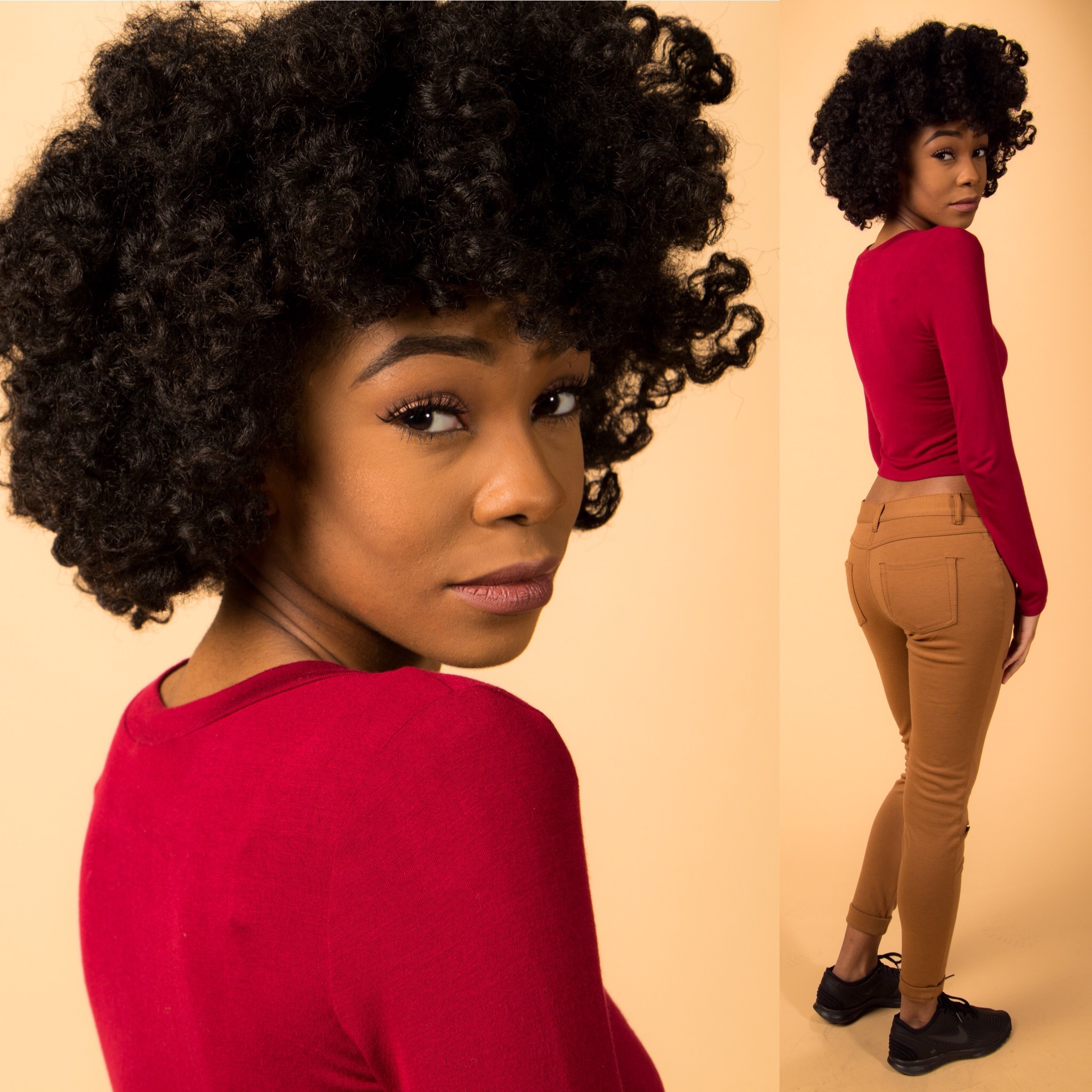 Trishonna shows time and again she's an advocate for everyone to follow their dreams no matter what it takes. She expects God to take her higher than her mind can imagine and contributes much of her success thus far to the wonderful team around her and everyone who has been more than helpful along the way.